Structured Settlements for Minors: Case Examples
When getting ready to settle a minor's case, parents and guardians want to ensure that their child will have the funds they need for future financial stability.
Here are two common examples of settlement plans for minors that utilize structured settlement annuities. Again, each case is unique, and your settlement consultant can help tailor options to fit your family's specific needs.
EXAMPLE ONE: Spreading Out the Settlement
In this example, the minor is only three years old. The structured settlement plan includes a tax-free $500 monthly payment during the anticipated college years (ages 18-22). It also includes a $15,000 lump sum payment at age 18 to purchase a vehicle. Finally, the structured settlement plan includes a lump sum payment at age 25 to repay college loans.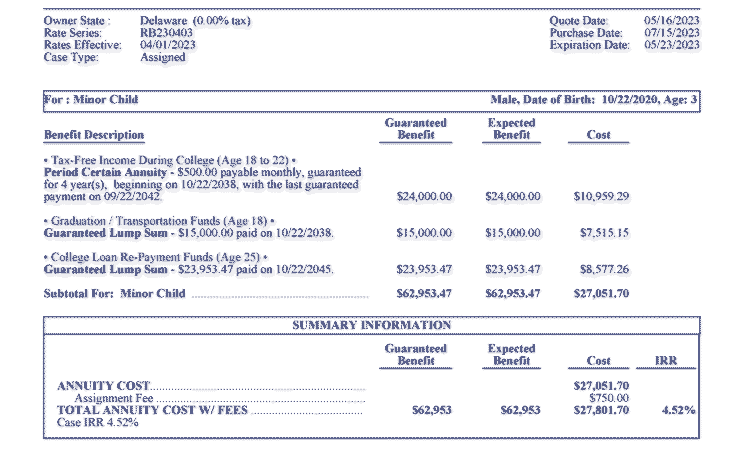 Pros:
Creates a learning environment about budgeting smaller amounts of money while the child becomes more financially mature
Smaller payments have little impact on college financial aid (FAFSA) applications because structured settlement annuities are not an asset that the minor will own (note: the minor owns the rights to the future periodic payments, much like a pensioner)
Enhances the settlement award by allowing the money to grow for a longer period
The largest lump sum payment is scheduled for when the child will be more financially mature
Helps to establish a solid FICO score as a young adult if student loan debt is paid off promptly
With an IRR of 4.52%, the minor will receive an expected benefit of $62,953 with a cost of only $27,802
Cons:
Limited flexibility and liquidity. If cash is needed, the annuitant will have to wait for the payments to arrive.
EXAMPLE TWO: Four-Year College Tuition
In this example, the minor is also three years old. The structured settlement plan focuses on larger semi-annual payments from ages 18-22, with the intent of paying for college tuition.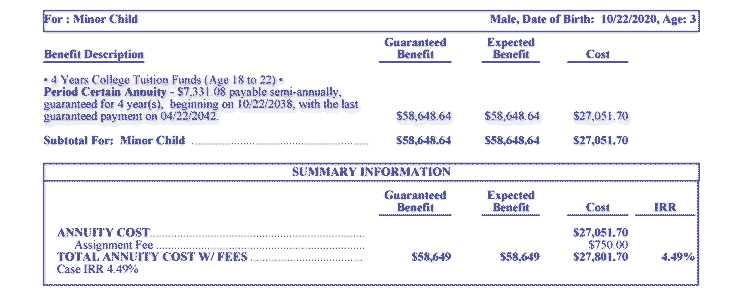 Pros:
Larger semi-annual payments provide more flexibility
The child can do what they want with the funds in the years they receive them
Cons:
These funds may count against the child when they apply for financial aid (FAFSA)
Access to substantial funds when the child may be too financially immature
Much like the first example, the cost of the structured settlement is far less than the expected benefit. In other words, incorporating a structured settlement annuity into a minor's settlement can greatly increase the overall value to the minor.
Structured Settlements for Minors
It is impossible to predict the future. However, an experienced settlement consultant will help your clients walk through all available options to create the best plan possible. For more information about structured settlements for minor clients, contact your Sage consultant today.
Posted By
Sage Settlement Consulting
Categories: