STRUCTURED SETTLEMENT PROVIDERS
We offer structured settlement annuities through life insurance companies that have consistently achieved high ratings from highly respected rating agencies.
AIG
Berkshire Hathaway
Independent Life
MetLife
New York Life
United of Omaha
Pacific Life
USAA
MEDICARE SET-ASIDES, HEALTHCARE SAVINGS, LIEN RESOLUTION, NEEDS-BASED GOVERNMENT BENEFITS, TRUSTS, AND INVESTMENT SOLUTIONS
In addition to structured settlement annuities, Sage works closely with a range of settlement industry partners to provide injured claimants and their attorneys with end-to-end service.
Ametros

Ametros helps individuals manage ongoing medical expenses, maintain compliance with Medicare and Medicaid, and navigate the complex healthcare system. With programs including Careguard and Amethyst, Ametros' discount networks can provide considerable cost savings.
ARCHER

ARCHER provides innovative settlement services to streamline single claimant, multi-claimant, and mass tort cases, including claims administration, lien resolution, qualified settlement fund (QSF) administration, medical records review, bankruptcy and probate coordination, Medicare Secondary Payer compliance, and more.
Claimant Advocacy Group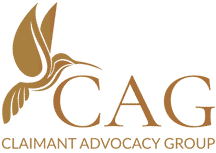 The Claimant Advocacy Group (CAG) provides high-level education to, and advocates for, individuals and families involved in personal injury litigation, to prepare them for post-settlement life. Working directly with claimants, CAG provides customized education on government and private benefits, including, but not limited to Medicaid (Medi-Cal), SSI, food stamps (CalFresh), public housing, ERISA, VA, and more.
Legacy Enhancement Trust

Legacy Enhancement Trust offers personalized assistance for individuals and families in need of pooled special needs trusts, first-party special needs trusts, third-party special needs trusts, and minors' trusts. Their team of experts works to improve the quality of life for individuals with disabilities and special needs, including beneficiaries who are non-U.S. citizens.
Midwest Trust

Midwest Trust is an independent trust company, state-chartered trust company. As a trustee, Midwest Trust ensures clients' objectives are met on a variety of account types, including living trusts, charitable trusts, irrevocable trusts, marital trusts, special needs trusts, and more.
NorthCoast Asset Management

NorthCoast offers strategies designed to meet investors' goals and objectives at any stage of the investment cycle. Their advisory team works closely with clients to construct individualized portfolios that cover a range of investment styles.
Settlement Investment Services

Settlement Investment Services is a digital advisory platform with a professionally managed portfolio. Their team provides clients with educational resources about money management, budgeting, and investing.
Structures

Structures provides cutting-edge financial solutions for claimants and their attorneys, including their tax-advantaged Settlements Plus™, Fee Structure Plus®, and Treasury Funded Structured Settlement™ products. Structures also offers international wire solutions for claimants who are non-U.S. citizens.