Rated Ages Can Be the Key to Saving Your Client Money
When an attorney is settling a case, some of the first items their settlement consultant will ask for are the medical records. Why? Typically, the settlement consultant can work with insurance companies to get rated ages for your client, which can help decrease the cost of purchasing a structured settlement annuity.
What is a Rated Age?
Based on a number of factors, a life insurance company will issue a "rated age", which reflects an individual's life expectancy. If your client was involved in a catastrophic accident, he probably has a limited life expectancy. The underwriters at the insurance companies assign a rated age to your client based on that life expectancy. Your client could have a range of rated ages from different annuity issuers.
Here is an example in which the claimant's calendar age is 27, but as you can see, his rated ages vary greatly, from 32 years old to 60 years old:

How Does the Rated Age Affect the Cost of an Annuity?
A higher rated age can mean a lower cost annuity for which periodic payments are payable for the lifetime of the claimant. Due to the limited life expectancy, the insurer assumes that it will not have to make payments for the same length of time that it would have to make payments for an individual with a normal life expectancy. Because of that, the insurer is willing to issue the annuity to your client for a lower premium. Why is the insurer willing to do this? The insurer accepts the risk that the plaintiff could potentially live longer than the rated age by spreading that risk across thousands of clients.
In the proposal below, the claimant, who is 27 years old, wants to purchase an annuity that will provide $1,000 per month, with a guaranteed payout of $300,000. Without a rated age, that annuity will cost him $279,905.58.
However, when the rated age is factored in, that same policy only costs him $228,734.55. That's a savings of $51,171.03! For an injured client, that amount of money can make a big difference.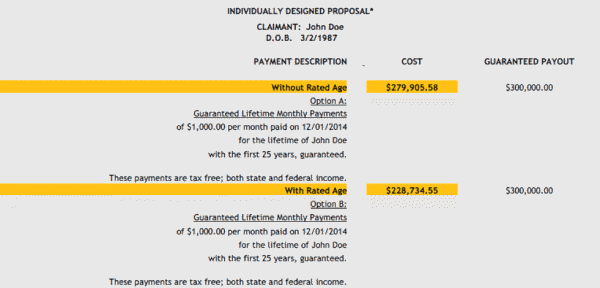 (click image to see larger)
If you have an injured client, make sure that your settlement consultant gets the medical records as early as possible and shops around before recommending a structured settlement option. It could save your client thousands of dollars and provide them with the long-term financial stability they need.
Posted By
Sage Settlement Consulting
Categories: