Is This the Key to Maximizing Your Client's Settlement?
When developing a comprehensive settlement plan, one of the first items a settlement consultant will request is the claimant's medical records. For certain claimants who want to utilize structured settlement annuities, information contained within their medical records may lead to more favorable pricing through a tool called a rated age.

What is a rated age?
Based on a number of factors, a life insurance company will issue a rated age, which reflects that company's estimation of an individual's life expectancy. Guidelines and underwriting manuals vary by company, so it's not unusual to see a wide range of age ratings for an injured claimant.

Here is an example in which the claimant's calendar age is 32, but as you can see, his rated ages vary from 32 to 60 years old: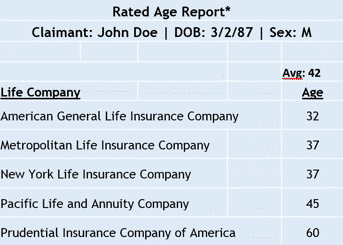 Greater Benefit, Lower Cost
If the claimant chooses the lifetime payment option, a higher rated age may result in a lower structured settlement annuity premium. Due to the substandard age rating, the insurer assumes that it will not have to make payments for the same length of time that it would have to make payments for an individual with a standard life expectancy. Because of that, the insurer is willing to issue the annuity at a lower premium cost. The insurer accepts the risk that the claimant could potentially live longer than the rated age by spreading that risk across thousands of clients.
In the proposal below, the 32-year-old claimant wants to purchase an annuity that will provide $1,000 per month, with a guaranteed payout of $300,000. Without a rated age, that annuity will cost him $279,905.58. However, when his rated age is factored in, the same policy only costs him $228,734.55. That's a savings of $51,171.03! For an injured client facing mounting expenses, that amount of money can make an impactful difference.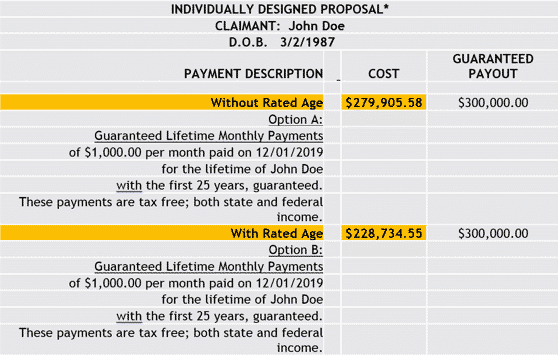 Contact Sage Settlement Consulting Today

If your client is interested in a structured settlement annuity, there may be an opportunity to leverage a rated age. Shopping around for the best rate could potentially save your client thousands of dollars and provide them with the long-term financial stability they need. Contact Sage Settlement Consulting today to learn more.
*Please note: The examples in this article are provided for illustrative purposes only. Actual rated ages and annuity premium costs are determined by life company underwriting guidelines, current rates, and the individual claimant's medical history.
TrialSmith Subscribers: Liked this article? Check out more TrialSmith articles on Counsel Financial's website.

Posted By
Sage Settlement Consulting
Categories: